AMBLER BOILER HOUSE
Transformation of industrial icon to symbol of sustainable design.
Award winning class a leed-certified office building
Ambler, PA | 40,000 SF
Preservation Alliance for Greater Philadelphia, Grand Jury Award
Building Design & Construction Magazine, Reconstruction Awards, Gold Award
Montgomery County - Smart Growth Award, Planning and Design - Montgomery Award
10,000 Friends of Pennsylvania Commonwealth Design Awards, Adaptive Reuse Gold Award
Revitalized
HSA's adaptive reuse design of this abandoned boiler house has created a state-of-the-art LEED Platinum, transit-oriented office space. The design carefully preserves key elements of the well-known landmark, following Ambler's revitalization efforts of existing real estate.
Built in 1881
In 1881, the Keasbey & Mattison Company decided to move their manufacturing business from Philadelphia to Ambler, which was already a thriving farming and industrial community. Entrepreneur Henry G. Keasbey and Dr. Richard V. Mattison began constructing factory buildings and warehouse facilities such as the Ambler Boiler House, creating jobs that brought many new people to the Ambler area.
Asbestos
The Ambler Boiler House manufactured asbestos building materials and industrial supplies until the company collapsed with the Great Depression. The Ambler Boiler House is one of only a few remaining Keasbey & Mattison structures, reminding the area's inhabitants of the company's significant impact on the local community as well as the long standing consequences of its industrial asbestos operations.
Remediation
In the 1980s, the EPA contained the site, protecting and addressing any asbestos materials. Summit Realty Advisors, with John Zaharchuck at the helm, developed a plan for the property and in 2011 extensive removal of asbestos material began. During this remediation, Heckendorn Shiles Architects developed designs for the adaptive reuse of the building, proposing to restore the existing structure and preserve historic features.
Coordination
The project team coordinated with the Pennsylvania Historical and Museum Commission's Bureau for Historic Preservation, the Ambler Borough's Main Street efforts, the Pennsylvania Department of Environmental Protection, and the United States Green Building Council for the extensive restoration, LEED and brownfield redevelopment efforts.
Commericial Design
With close proximity to the SEPTA regional rail station, existing roadways and available utility services, the project is a responsible approach to commercial development. While carefully preserving the well‐known exterior features, HSA created approximately 48,000 square feet of office space.
Daylight
While designing the core of the project, multi‐tenanting considerations were approached in an open plan; providing non‐traditional office space with daylight and view advantages. The office space retains its loft-type industrial character.
Materials
Over 60% of the walls, floors and structure were adaptively maintained, diverting building materials from landfill because of their re‐use. Existing openings, such as entries and windows were re‐glazed and incorporated into the design. Regional materials were utilized as much as possible to reduce transportation cost.
Industrial and Modern Office Space
New lobbies on all floors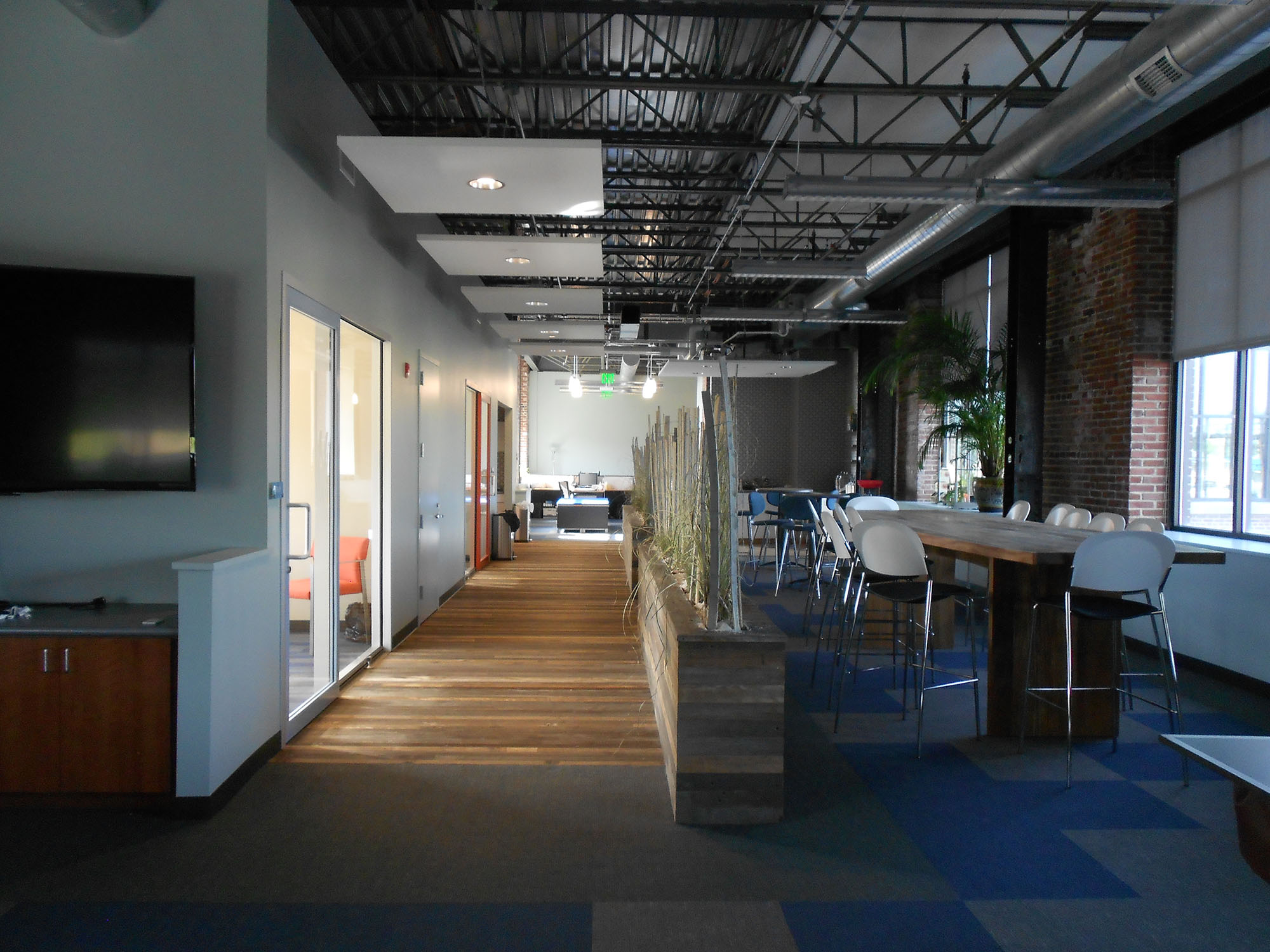 Finishes
The design team introduced low‐emitting, low‐VOC finishes to reduce "off‐gassing" and provide better indoor air quality.
LEED Platinum
The environmental engineer created a unique project approach to abatement of hazardous materials as well as addressing a proposed brownfield redevelopment with close adjacencies to dense residential neighborhoods. The building's main source of heating and cooling is provided by a sophisticated geothermal system, where 54 individual wells were drilled over 500 feet deep, on the building's very limited site. The introduction of day‐lighting spaces and the reuse of the rooftop light monitor will reduce the need for artificial light within the building - further contributing to lower the buildings energy consumption.
Conservation of water
A grey water system was installed to reduce storm water runoff and reduce reliance on the public water supply. The system will capture rainwater and filter it to an internal cistern for re‐use as non‐potable water for the landscape irrigation.
Location
The property was ripe for adaptive reuse as a commercial office, transit-oriented development, with its close proximity to the SEPTA Regional Rail line, existing roadways, utility services, and downtown Ambler.
Completion
Construction of the $16 million, 48,000 square-foot core and shell office building was completed in Summer 2012, with first tenants moving in during the fall of the same year. These final steps fulfilled the joint goals of contributing to Ambler's local economy and preserving the historical link to its past.
From Eye-Sore to Award-Winning
The historic Keasbey & Mattison brick masonry shell, which had deteriorated into a local eyesore and brownfield site, has now been transformed into a LEED Platinum certified, multi‐tenanted, transit‐oriented office space.